Endangered Data Week
20 maart 2017
Tweet
Na de Week van het Digitaal Erfgoed wordt in Amerika tussen 17 en 21 april de Endangered Data Week georganiseerd. Met dit initiatief vraagt de Digital Library Federation aandacht voor zaken die de toegankelijkheid van openbare data bedreigen.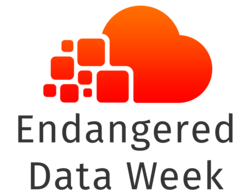 "Raising awareness of threats to publicly available data; exploring the power dynamics of data creation, sharing, and retention; and teaching ways to make endangered data more accessible and secure"
Van de website:
"Endangered Data Week is a new, collaborative effort, coordinated across campuses, nonprofits, libraries, citizen science initiatives, and cultural heritage institutions, to shed light on public datasets that are in danger of being deleted, repressed, mishandled, or lost. The week's events can promote care for endangered collections by: publicizing the availability of datasets; increasing critical engagement with them, including through visualization and analysis; and by encouraging political activism for open data policies and the fostering of data skills through workshops on curation, documentation and discovery, improved access, and preservation."
Get Involved
Browse our map and list to find Endangered Data Week events near you! Would you like to host an event? Look here for resources and ideas (in progress), and share your plans. Then help spread the word by using the hashtag #EndangeredData!

Meer informatie
Ga voor meer informatie over deze week naar de website van Endangered Data Week